Thanks to Darby at
Life with the Hawley's
for this fantastic find. Perfect timing. This past weekend I celebrated my first family Christmas of the year with my dad's family. Fun times. This coming weekend will be with my mom's family.
1.
Egg Nog or Hot Chocolate?
No question. Hot Chocolate.
2.
Does Santa wrap presents or just sit them under the tree?
Santa always wraps. Has ever since I was little :)
3.
Colored lights on tree/house or white?
White lights. Classic.
4.
Do you hang mistletoe?
Nope. When I think of mistletoe I think of my grandma's plastic one that she puts up every year.
5.
When do you put your decorations up?
The day after Thanksgiving usually, though sometimes (like this year) I put up decorations the night of Thanksgiving. I'm definitely not one that puts them up before Thanksgiving.
6.
What is your favorite holiday dish?
We have gumbo every year and that is definitely my fave!
7.
Favorite Holiday memory as a child?
Spending them with my family. I loved the ones spent at my grandparents' farm, all of us hanging out, sleeping in the bunk beds, and playing monopoly all night. Also loved the ones waking up at home and seeing what Santa brought.
8.
When and how did you learn the truth about Santa?
I actually can't remember. Guess it wasn't that traumatic after all...
9.
Do you open a gift on Christmas Eve?
As a kid we always got to open one gift the night before. The past few years I have spent Christmas Eve with my Aunt, Uncle and cousins and they open Christmas pajamas on Christmas Eve. Last year I got my own pair. Yes, we are all adults (and probably too old for this) but I can't wait to see the jammies that my Aunt has picked out this year.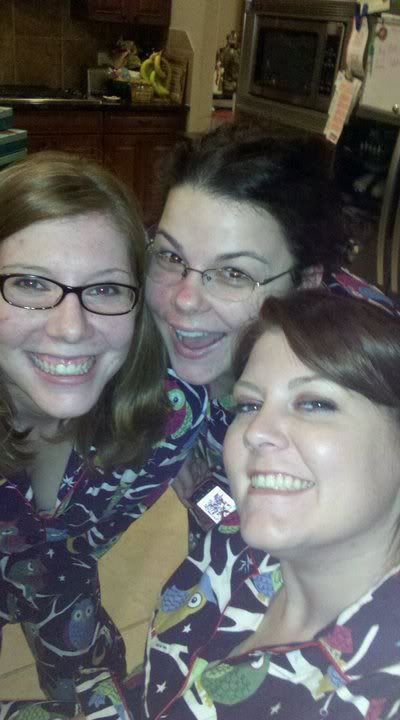 Last year's purple owl pajamas.
10.
How do you decorate your Christmas tree?
My tree is full of mostly ornaments I have made, mostly wooden and painted. There are a few that i have bought that match the crafty feeling that the tree has.
11.
Snow! Love it or Dread it?
Love it in Texas since it isn't a normal thing.
12.
Can you ice skate?
Nope.
13.
What is on your Christmas list this year?
< My wish? iPad. Do I think I'm getting it? Definitely not. lol.
14.
What's the most important thing about the holidays for you?
Family time.
15.
What is your favorite holiday dessert?
My grandmother's fudge was always a favorite growing up.
16.
What is your favorite holiday tradition?
Christmas eve cookie baking with the cousins...including the fighting that always seems to occur. haha
17.
What tops your tree?
A wooden and metal star.
18.
Which do you prefer giving or receiving?
Giving.
19.
Candy Canes: Yuck or Yum?
Yum!
20.
Favorite Christmas movie?
Elf is definitely a favorite. Not a favorite? Frosty the Snowman, makes me cry every time.
21.
Weirdest Christmas song?
Sorry guys...
"Under My Tree" by NSync
. Kinda dirty for Christmas, no?
22.
What is your favorite Christmas song?
I have too many...most recent fave is
"Cold December Night" by Michael Buble
. I also LOVE
"God Rest Ye Merry Gentleman" by The Barenaked Ladies with Sarah McLachlan
,
"Go Tell it On the Mountain" by Sara Evans
, and because I don't want to completely bash my favorite five boys,
"The Christmas Song" by NSync
.
What are some of your favorite holiday memories?