I haven't done a technology Thursday post in a while, but I have a few apps I need to share.
I'm currently obsessed with these three.
PicFrame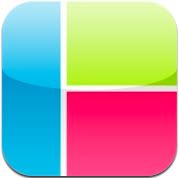 Love this one! I know I went on and on about PicStitch in a
previous post
...While PicStitch is free and has some great features. It doesn't come close to PicFrame. For $0.99 you get a lot of customization features that just aren't there in PicStitch. More choices on number of frames and frame layout. You can also resize and crop images (not there in PicStitch) and change the layout of the frames.
More features? Rounded corners? Check! Drop shadows? Check! Change the color/pattern on the background? Check Check!I've been obsessed with this one lately. If you follow me on Instagram I've been using it on most of my images lately! See more features and screen shots
here
.
Camera Awesome
I've only had this one for a day and am already loving it. It's FREE. Free. It allows you to take multiple images a lot quicker than the default iPhone camera. Love this!
A lot of added filters (you can buy more for a small price) and other features. Also has a built in timer and interval timer for you to take time lapse images. Love this one so far and I can't wait to play around with it some more! See more features and info
here
.
Sleep Pillow

The best travel app? Definitely this one! I use it every time I'm away from home. It's a white noise app. There is a free version and a pay version (just $1.99). I've tried out a lot of these and this one is my fave. It has a sleep timer, lets you choose from a huge number of sounds, and runs with the screen off (one of the things that was hard to find in many similar apps).
I can't fall asleep when its too quiet so this app has been a lifesaver. Bonus? It came in handy a few times the electricity went off in the middle of the night. Silence and I do not mix when sleeping. See more info
here
.
What are some of your favorite apps of the moment? Please share!