We participated in the
Disney Dining Plan
during our stay. Check out that link to learn more. Basically with the plan we signed up for, each person in our party got 1 snack, 1 quick service meal, and 1 table meal per night of our stay. Since there were 2 of us and we stayed 4 nights. We had a total of 8 snacks, 8 quick service, and 8 table meal credits. Quick service and table meals include 1 entree (or combo), 1 non-alcoholic drink, and 1 dessert.
We learned a few things for next time (if there ever is one). The quick service meals can definitely be shared. My mom and I could have easily shared a quick service lunch or breakfast to better use our credits. Online they say that the dining plan is about $56/day per person. We definitely spent that or more each day, but i think had we shared the quick service meals we would have better used our money and not have wasted as much food. As everyone will tell you that does the dining plan, it is a lot of food!
Each time you use your credit at a meal location, you get a receipt that shows how many credits you have left so you can easily keep track. I have a bunch of great restaurants and tips on my
Disney Pinterest board
, so check them out. Now, on to the food! BTW, my diet went out the window on this trip…after you see the pictures you will understand why!
Downtown Disney
Many of the restaurants at Downtown Disney are now on the meal plan. On our non-Disney park day, we decided to have dinner at Wolfgang Puck Cafe. Mom got the bacon wrapped meatloaf, which she said was one of the best meals she had while we were at Disney. I had the Chicken Alfredo (it comes with bacon. delicious!) which was good, but definitely a lot of food for one person. We didn't use the meal plan here, though we could have, so no dessert this time.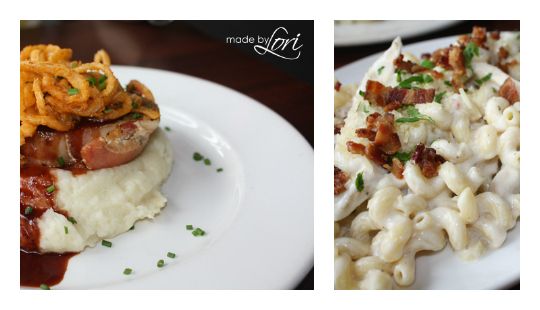 We also checked out Goofy's Candy Company while we were there and got a treat for later (since we didn't have dessert with our dinner). Everything looked delicious, but I went for the Butterfinger covered pretzel. YUM!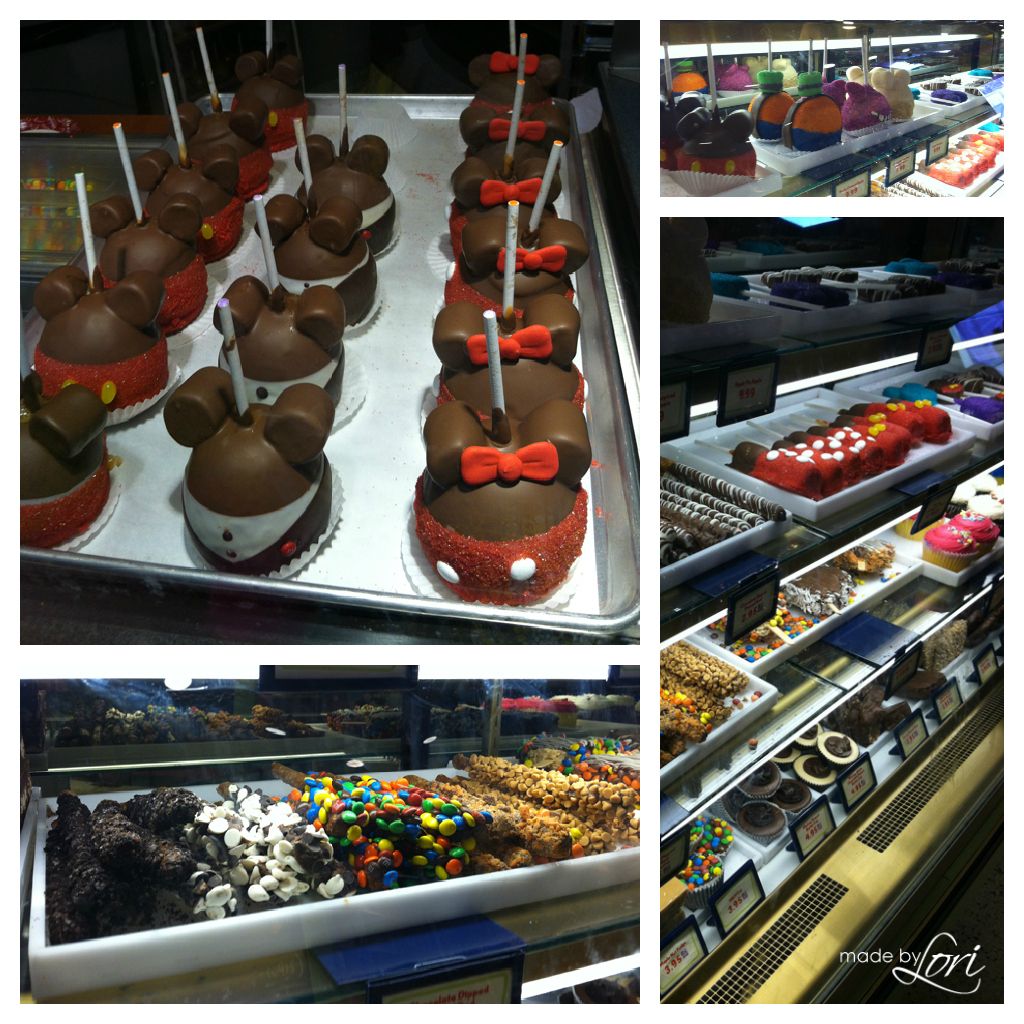 Boardwalk
Another spot earlier in the day on our non-Disney day was the Boardwalk. We went by the Boardwalk Bakery for the most delicious strawberry cupcake. Not too sweet. It was perfect!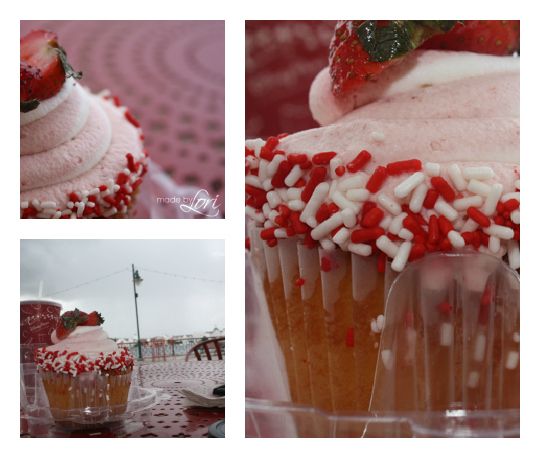 Animal Kingdom
Flame Tree BBQ is a quick-service meal location at the Animal Kingdom. I had the chicken salad. DELICIOUS! Mom had the rib and chicken combo (came with baked beans and coleslaw). I had a rib and it was good! Definitely the best quick-service meal we had. The desserts could have been better, but they were still tasty. We only had a few bites though. We wanted to try both so we got the chocolate mousse and the key lime pie. Yum! If you are in the Animal Kingdom around a meal time, this is the place to go!
Magic Kingdom
We had lunch at Cosmic Ray's one day. Standard quick service fair, nothing to write home about. But what was? The Dole Whip float from Aloha Isle of course! It definitely hit the spot on that hot afternoon. We also stopped by the Main Street Bakery one night for some treats.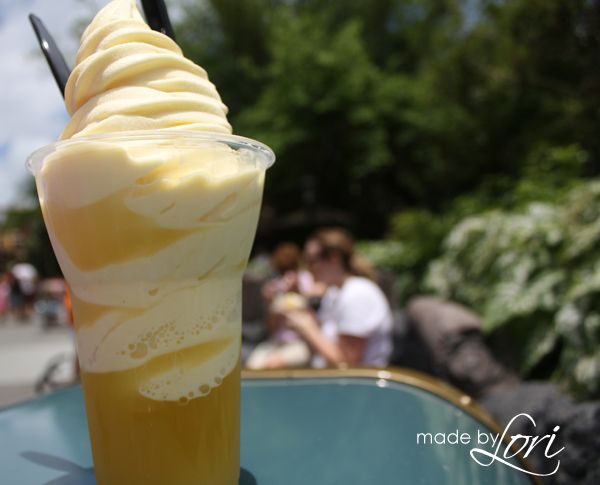 Hollywood Studios
We had a quick-service meal at Pizza Planet the first day. Two of our reservations were in this park (the other two in Epcot). Both had the scenery we were looking for. First up was Sci-Fi Dine-In Theater. I had the burger and mom had the pasta. We ate in the backseat of a car while watching old goofy sci-fi movie clips. I loved the atmosphere. More pics to come in my Hollywood Studios post! For dessert it was Apple Crisp and No-Sugar Added Brownie. Good food, but great atmosphere make this a place to come back to!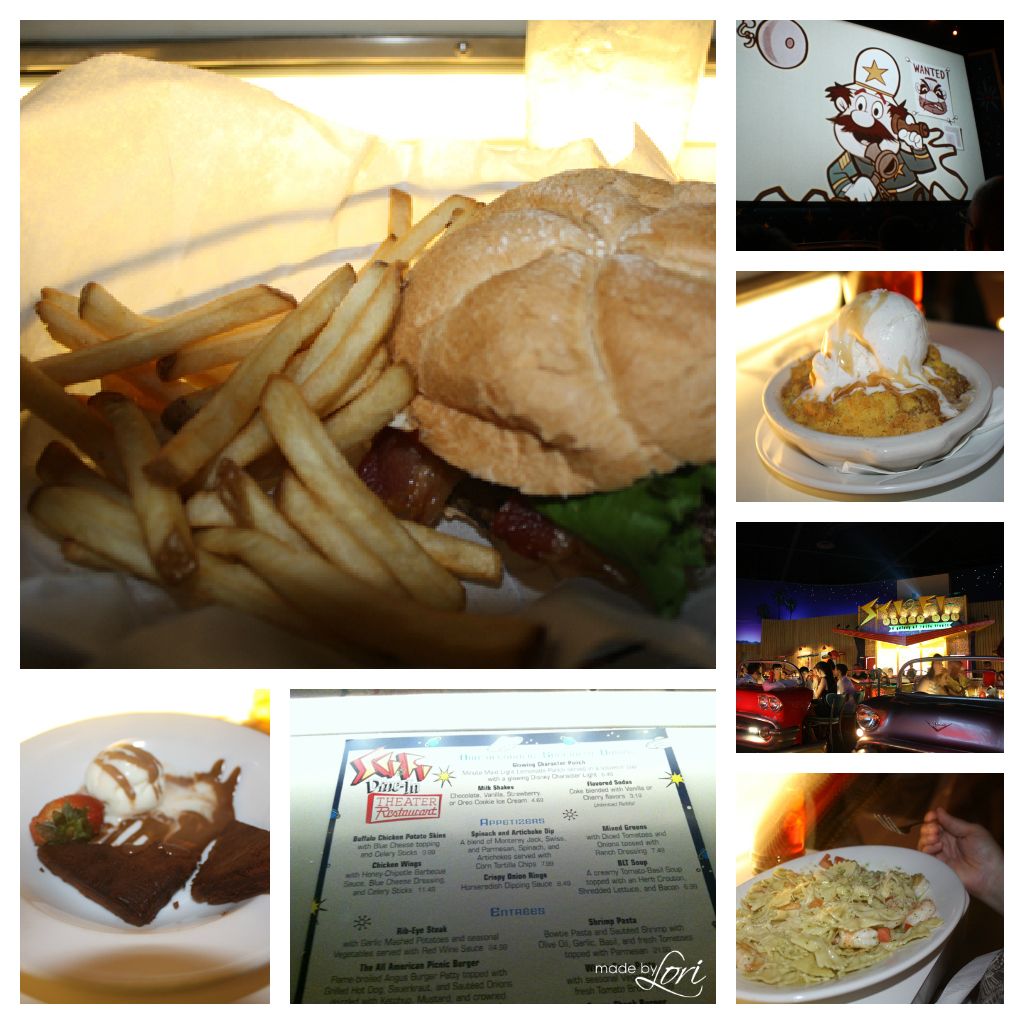 The last day we ate at the 50s Prime Time Cafe for lunch. Cousin Robb was our server (my favorite from the entire trip) and he made sure we followed the rules. No cell phones, no elbows on the table, no tattle-telling, and you must eat all your vegetables! I had the Pot Roast and it was so tender! Mom had the sampler that included some meat loaf (she liked Wolfgang's better), pot roast, and fried chicken. I had a bite of the chicken and it was GOOD! For dessert? Sundaes. Strawberry and Caramel. The strawberry was definitely the better of the two!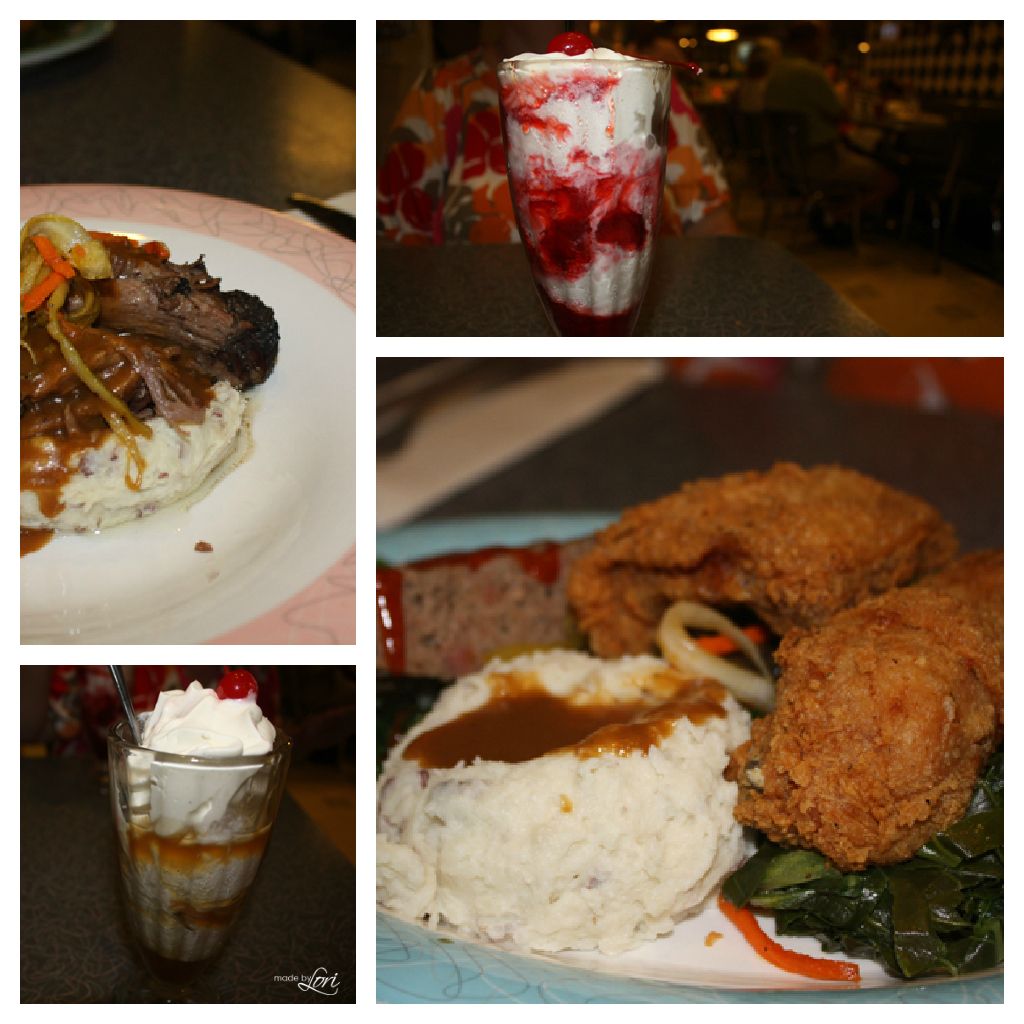 Epcot
This where we had our other two reservations, one of which ended up being the best meal of our entire trip and some of the best snacks! Karamell Kuche in Germany is home to some delicious caramel goodies!
First was San Angel Inn, in the Mexico section of the World Showcase. We both had the exact same meal and it didn't disappoint. Carne Asada and caramel ice cream for dessert. Yum. The restaurant had great atmosphere as well, with a pyramid and erupting volcano!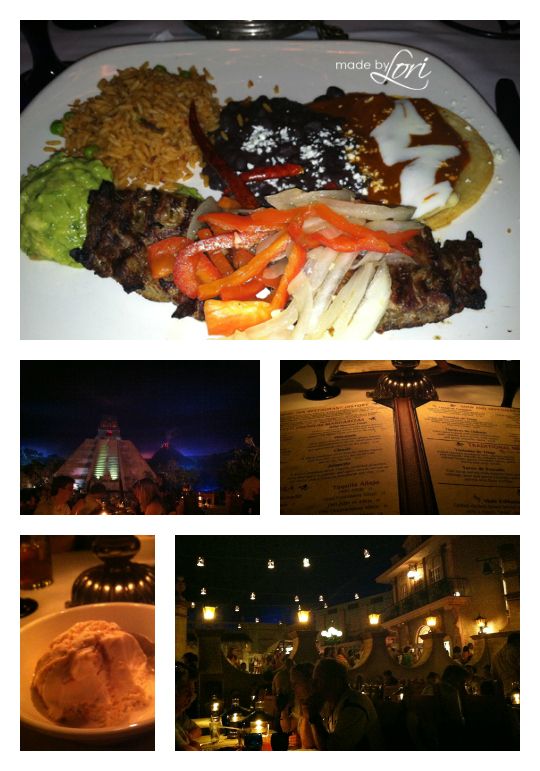 And last but not least, Via Napoli in the Italy portion of the World Showcase. Home to the best pizza I have ever had and in my opinion the best meal we had during our Disney stay. We each got an individual pizza, one pepperoni and one Italian sausage. They were delicious! Thin crust, great cheese, wonderful sauce, and the toppings were the icing on the cake!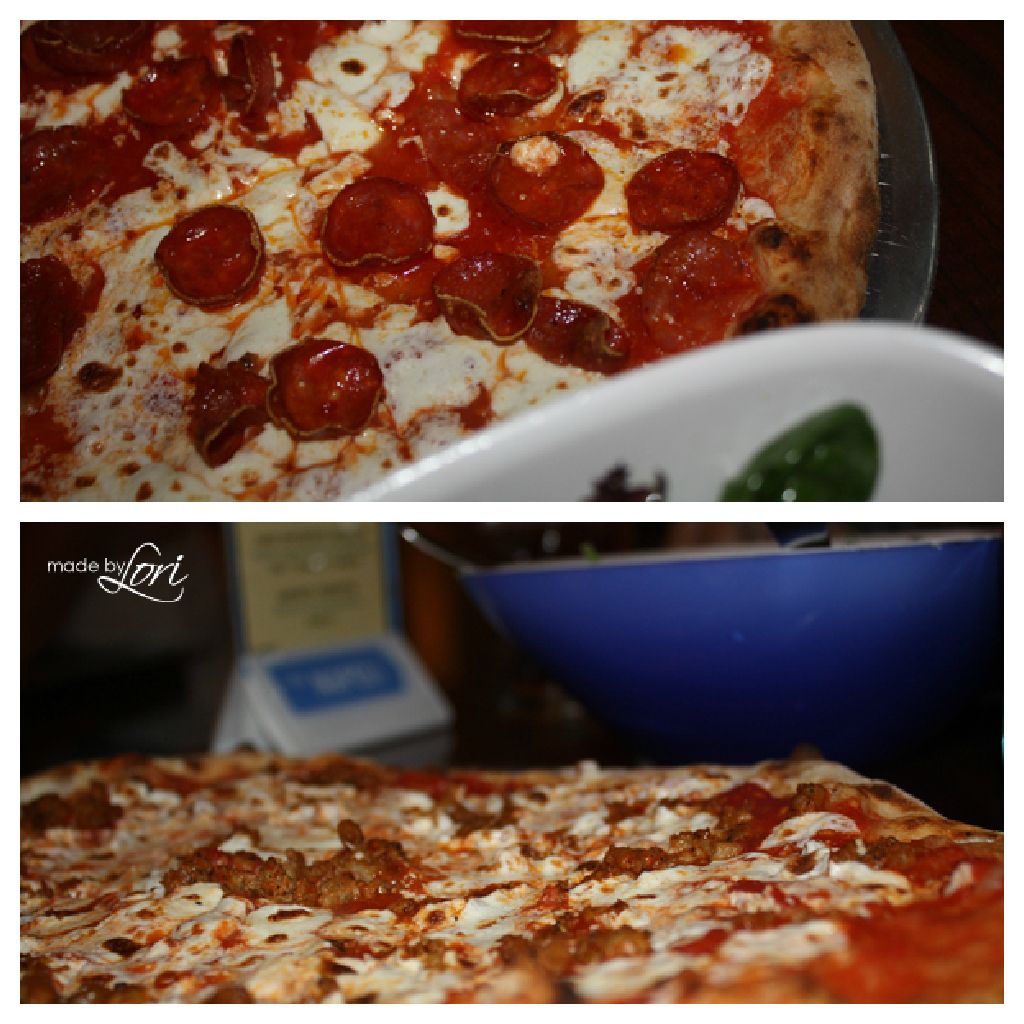 And desserts? I had the Coppa Di Bruitti Ma Buoni (basically a cherry sundae) and mom had the Zeppole Di Catarina (fried dough/ricotta cheese fritters dusted with powdered sugar and whip cream & chocolate on the side). Just seeing the pictures makes me want to go back here. If I get the chance to go back to Disney World this restaurant is tops on my list!
Have you ever eaten at any of these restaurants? What are some of your favorite spots to eat at Disney World?