My favorite time of year is upon us.
That's right people. Project Runway is back tonight!
Wait! What is a girl to do? Doesn't Lifetime realize that Big Brother has it's live eviction show on Thursdays at 9pm Eastern/ 8pm Central...the same time Project Runway comes on?! Thank goodness for DVRs.
And since I am addicted, I've already viewed all the videos on YouTube. A definite undertaking. You can see casting sessions, home visits, and closet tours for each of them
here
.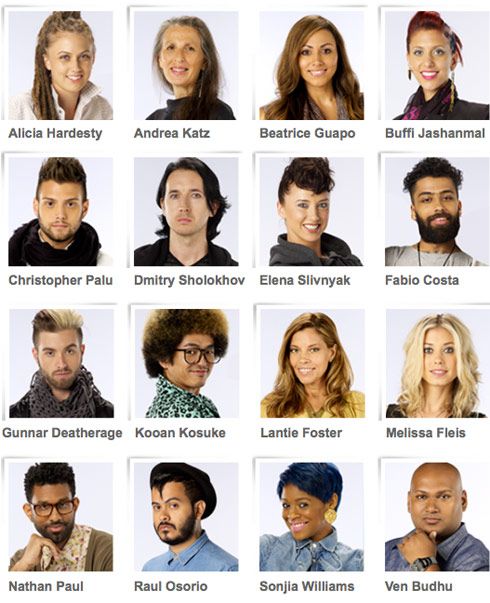 Photo Source
First impressions?
Alicia Hardesty
, 27, Brandenburg, Ky. - Seems nice. Clothes? Blah.
Andrea Katz
, 58, Oceanside, N.Y. - Not impressed with her. Her
bathroom
? Awesome.
Beatrice Guapo
, 28, Orange County, Calif. - I was worried they were gonna all be bores after the watching the first two (yes, I'm OCD and went in alpha order). Beatrice has personality. Love the
clothes
...especially her scarves. Love!
Buffi Jashanmal
, 31, London and Dubai - No casting call for her. Weird. You must go watch her
closet video
and see her "travelling jacket". Hilarious. She has enough personality to make up for the first two. Definitely out there on her clothing choices, but she should be one to watch.
Christopher Palu
, 24, Brooklyn, N.Y. - Eh, not impressed. Seems like a nice guy though.
Dmitry Sholokhov
, 33, Novopolotsk, Belarus - Love his black coat in the casting session. Also? Love his accent! Can't wait to see him interact with Tim...especially after the girl told him he was a "maybe" on the
casting
session. His "Are you serious?" was perfect.
Elena Slivnyak
, 28, Kiev, Ukraine - Run, don't walk over to her casting
video
. One word. Killer.
Killer.
Love the coats, especially that first one she put on. The screw vest? I die. I'm amazed by what this girl can do with a sewing machine. BTW, I was really starting to worry I was going to be disappointed in this season. Not anymore.
Fabio Costa
, 29, Belo Horizonte, Brazil - Another just eh. Not super impressed with the clothes he showed.
Gunnar Deathrage
, 22, Louisville, Ky. - He tried out for season 9, but didn't make it. I went back and watched his
season 9 casting
to compare and he has really grown. This collection he shows in the casting
session video
stomps the other one way into the ground. Definitely looking forward to seeing what else he can do.
Kooan Kosuke
, 30, Himeji-shi, Japan - One of my least fave clothing style, but he has a personality and should be
fun to watch
.
Lantie Foster
, 47, Sacramento, Calif. - Wasn't sure after watching the casting video...the
closet video
made me like her. Still not sure about her clothes, the dresses in the casting vid were cute but nothing too out there.
Melissa Fiels
, 31, Rogers City, Mich. - Way too much black. Loved the first leather jacket she showed in the
casting video
.
Nathan Paul
, 33, Manhattan, N.Y. - Eh. Seems to be a running feeling from most of these contestants. Wait! He organizes his closet by
ROY G. BIV
?!?! A man after my own heart. Love it!
Raul Osorio
, 27, Canoga Park, Calif. - I like his simple and pretty
dresses
.
Sonjia Williams
, 27, Boston - Love the yellow. Especially the
pants
...minus the bow.
Ven Budhu
, 28, Berbice, Guyana - Wasn't sure at first glance (thought too much red), but
wow
. Just wow.
Predictions?
Elena & Ven. Definitely see these 2 making it all the way.
Are you a Project Runway fan? Are you as excited about the show as me?