Since it's been over a month since my Disney vacay, here's my last Disney post!
While at Disney World, I used a few apps quite frequently. A few of them I always use when travelling and a couple are Disney Specific.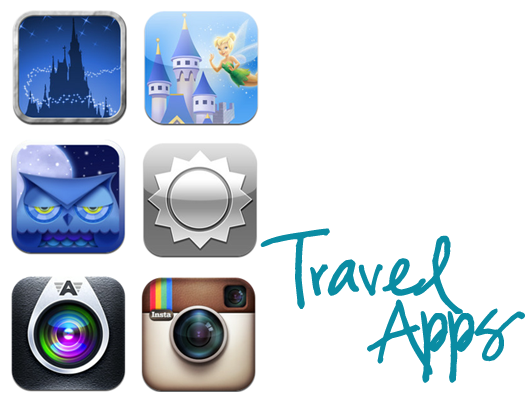 Disney World Magic Guide
(
download
) $4.99
Loved that this app stored our dining schedule. I was able to input the dates, times, and confirmation numbers for all of our restaurant reservations. Came in handy while in the park trying to remember when and where we were supposed to be. I also love the fact that it includes menus for all of the restaurants. Came in handy when we were trying to figure out where to grab a snack or quick service meal in the parks. Definitely better than going up and waiting to read menus at the restaurants only to find out we didn't want anything on the menu.
The app also includes wait times updated by park guests. I found them just as accurate as the official Disney app. I definitely think it's a little pricey for an app, but if you frequent the parks it is a good app to have.
Disney Mobile Magic
(
download
) FREE
Also available for Android and there is a mobile web site version.
We used this app daily in the parks. It has show hours, wait times for rides, ride and restaurant information, and park maps. My favorite feature? The GPS would tell you exactly where you were in the park using a park map AND you could see what restaurants and rides were nearby.
One of the negatives to this app is that some features (times, wait times) were only available when you were in that particular park. For example, if we were in the Animal Kingdom we could only see times and wait times for that park. We couldn't see them for Magic Kingdom, Epcot, or Hollywood Studios. Another downside is that restaurants didn't have menus (unlike the Magic Guide app).
Sleep Pillow Sounds
(
download
) $1.99
I use this app anytime I am staying away from home. There are a number of white noise apps available, but I love the diverse number of sounds available with this one. Unlike other sleep apps that I have tried, it does allow you to turn off the screen and keep the app running. You can favorite sounds so that you can get to them more easily. You can also set a sleep timer in case you don't need the noise all night. If you can't sleep with silence, this is definitely the app for you!
AccuWeather
(
download
) FREE
Great weather app with a pretty accurate forecast schedule. I LOVE the fact that it has an integrated radar map included. It definitely came in handy while in the parks! Being able to see where the rain showers were and how long they would probably be around was a huge bonus. We brought ponchos with us daily, but this app let us know if we were going to need them sooner or later.
Camera Awesome
(
download
) FREE
My go-to camera on my iPhone. I hardly ever use the camera that came with the phone anymore. With one press of your finger you can change the focus/exposure area allowing you more control over the pictures you take. The camera responds a lot faster than the normal one, so you can take a lot of images a lot quicker. There is an integrated filter/effect system that is also nice. You have to pay if you want more, but the 9 that come with it are pretty nice.
Instagram
(
download
) FREE
Love Instagram all the time, but during travel it is a great way to share what you are doing quickly and easily. I wasn't on Twitter or Facebook much, but this app was used quite frequently while I was gone.
Do you have any apps you love to use when you travel? Please share!