We knew we wanted to go to Universal Studios on our trip for at least two reasons. For me? Harry Potter! Duh! For mom? Jurassic Park! One of her favorite movie trilogies!
Then we just had to figure out
how
we were going to get there. Since we took the Disney Magical Express from the airport to the hotel (more on that in a future post), we had no transportation on our own. My cousin Lisa took a cab when they were at Disney last year. As always my OCD self did some research and found
this awesome post
on transportation from Disney to Universal. We decided to go with the rental from Disney Dolphin Resort.
Wednesday morning we took a shuttle from our hotel (Pop Century) to Hollywood Studios. We then walked along a path by the water over to the Dolphin. It was about a 10-15 minute walk. The weather was nice (no rain and not too hot) so the walk won over waiting for the boat. Had the weather not been favorable we probably would have waited on the boat shuttle from Hollywood Studios to the Dolphin.
We picked up our car and were on our way to Mecca...opps I mean Universal Studios. We arrived a little after the park had opened and started making our way around.
Side note: we only got the one park ticket for Islands of Adventure since it had the things we most wanted to see. The nice lady at the window who tried to sell us a lanyard, ticket holder, and express pass ticket (which we all declined) mentioned it was only $30 extra for the 2 park ticket, but we decided against it.
First stop was the Dr. Seuss area where 6 years earlier I got my picture with my future husband.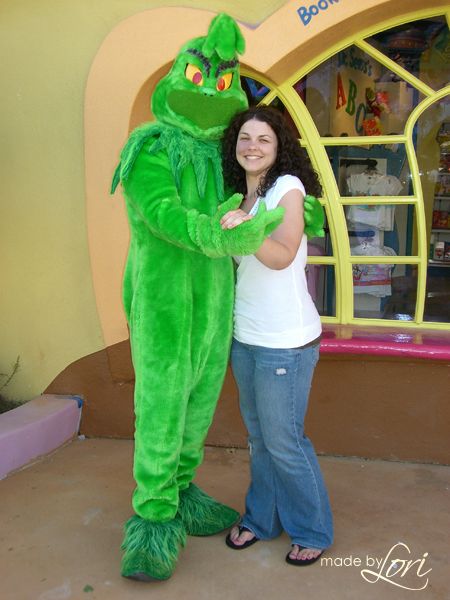 That was my Christmas card that year.
Merry Christmas from The Grinches! ;)
We then quickly made our way to The Wizarding World of Harry Potter!!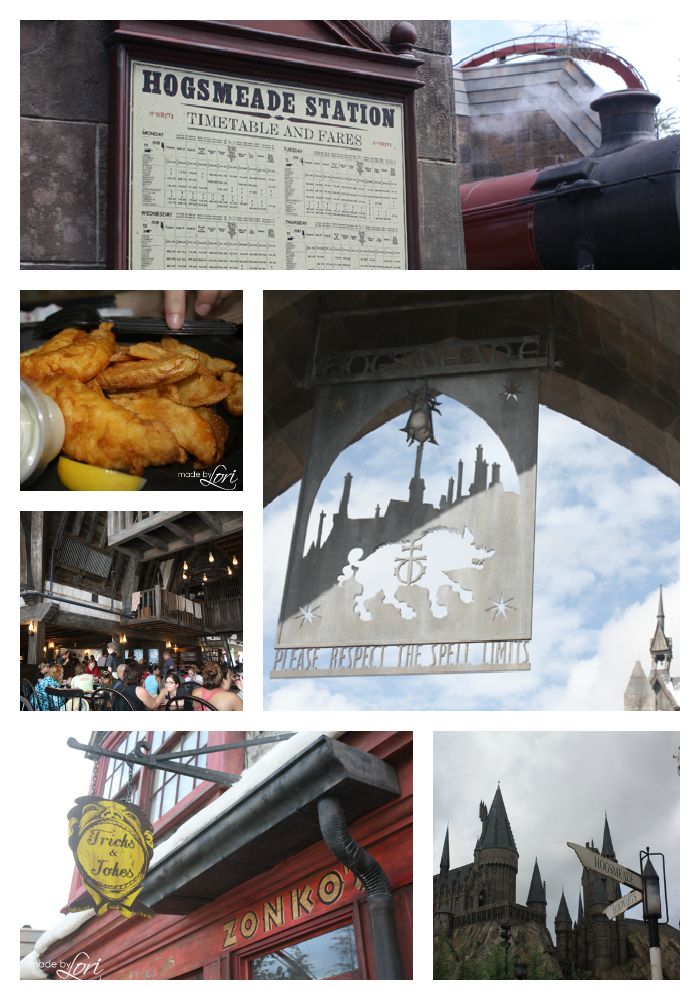 I was in nerdy girl heaven. Hogsmeade was quite lovely. The station? Loved it. The Hogwarts Express? I want to ride it (Universal should definitely work on that!)! Three Broomsticks? I want to eat there...oh wait...we did!
We decided on an early lunch since there wasn't a wait and I really really wanted to eat there (yes, nerd girl). Mom and I split fish & chips and a side salad. It was yummy!
What else to do in Hogsmeade? Oh yea, frozen butterbeer! Yes, the nerd girl had to get the souvenir cup. It was delicious and sweet. Tasted like butterscotch.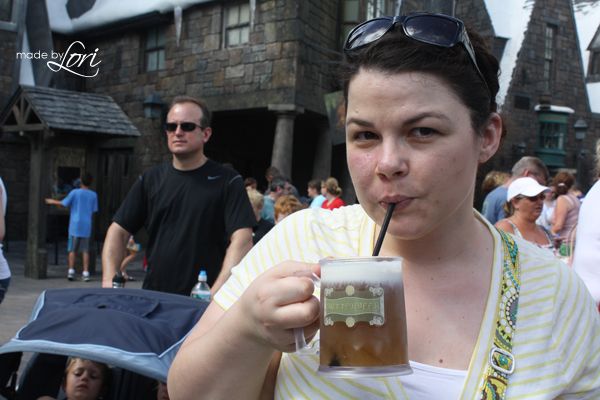 Some other treats they had? Pumpkin juice in these super cute bottles. Unfortunately we didn't try any. Maybe next time! ;)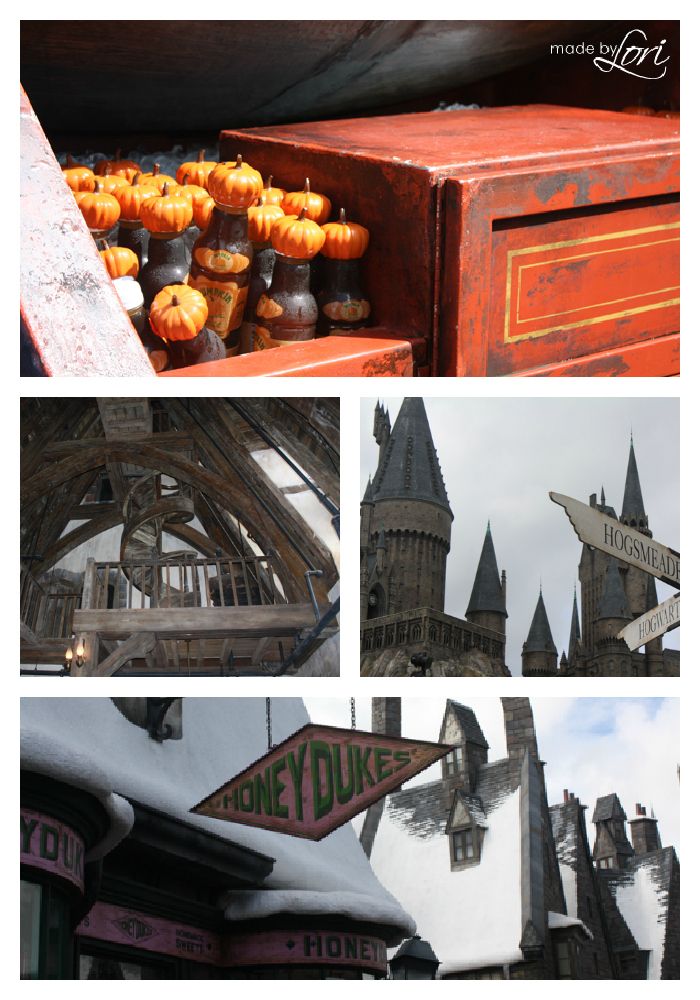 Honeyduke's was cute and I loved all of the snow capped roofs of all of the buildings in Hogsmeade. Hogwarts was gorgeous. Of course since we got there after opening and didn't head straight to the ride first, the wait was crazy long. We didn't end up riding it. Next time I'm there first thing in the morning. Definitely!
One note about The Wizarding World of Harry Potter:
I really hope Universal Studios adds to this section of the park. It is the smallest section and I would imagine probably the one thing that
most
people are coming there to see and do. Get on that Universal!
Notice I say
most
people. Manly because my mom? She's never read the books and has only seen a couple of the movies. I know, she's such a Muggle and I'm a nerd. Anyway, her favorite part of Universal Studios?
Jurassic Park!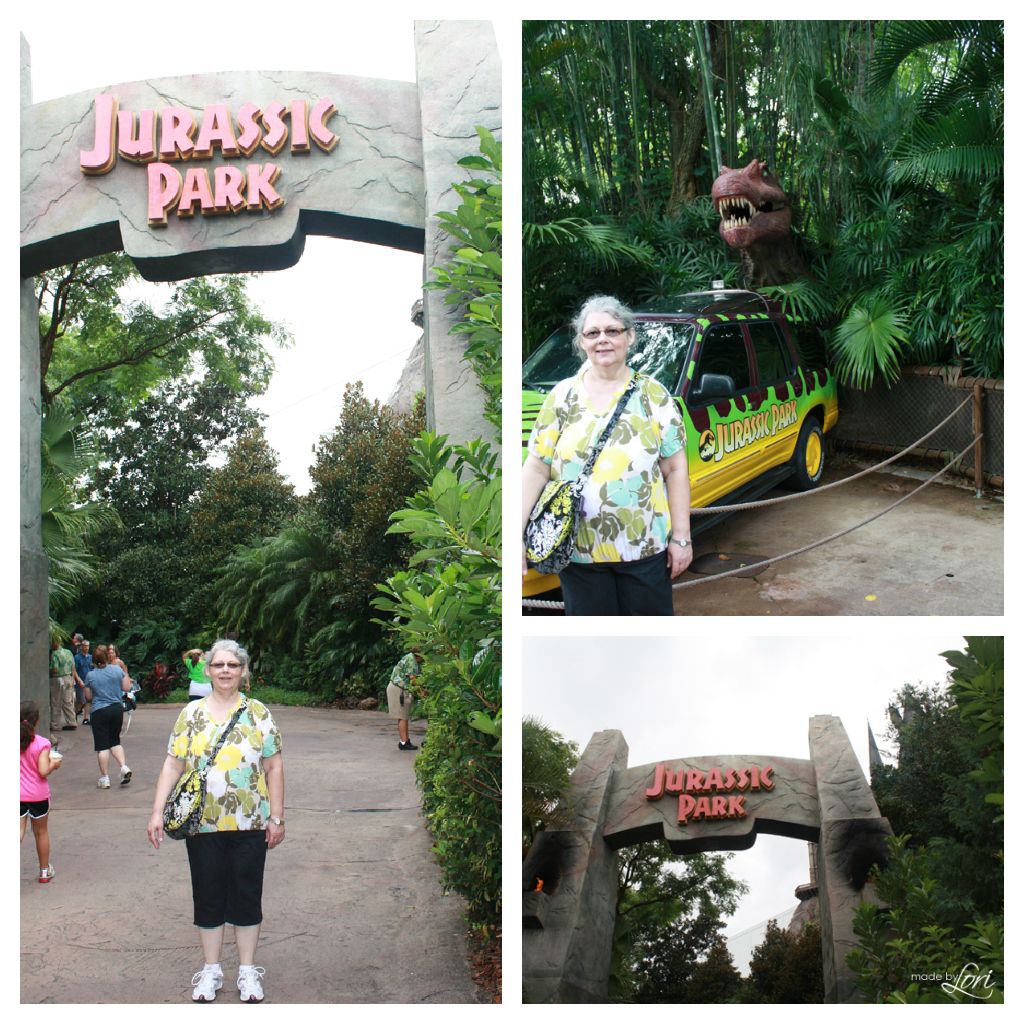 Mom's a huge Jurassic Park fans. I remembers seeing the first one in the theater with her when it came out. Anytime it is on TV she watches it, even though she owns them all on DVD. She swears her dogs are also huge fans of the movies and the dinosaurs.
We had fun playing around in this area and in the area where you could guess the dinosaur in the egg. Did we ride the ride? No, we were anti-water rides on this trip. Especially after seeing everyone coming off the ride and how wet they actually were. I've ridden it before and definitely remember getting soaked.
We continued around the rest of the park checking out the different areas before heading out.
One last butterbeer shot (with Hogwarts in the background) for the road. Nerd girl time is over. :)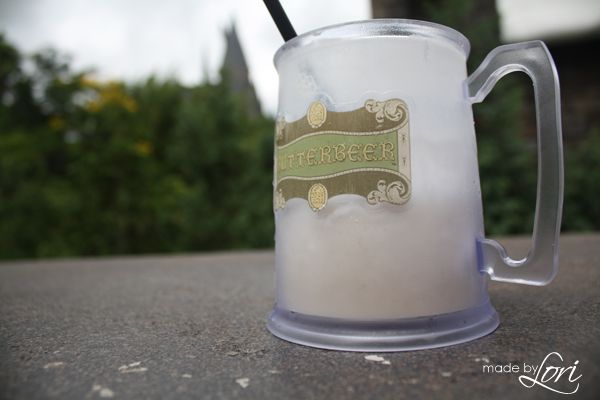 Have you ever been to Universal Studios and The Wizarding World of Harry Potter?