I went back and read
my post from the first day of school last year
. Crazy that this year's "first day of school" is going to be completely different.
Last year I was a High School Teacher at the high school I graduated from almost 15 years ago. Waiting to see what the new year would bring with new students and new classes was top on my mind. Having just graduated with my master's degree, I was happy to have my focus back on work and not on homework of my own.
Today I'm an Educational Technology Specialist at a different school district, a much larger district. If you would have told me a year ago that I would be where I am, I probably would have said you were crazy. But now?
It's right.
Training teachers on technology and working with them one-on-one with technology in their classrooms is something I am passionate and excited about.
Friday marks a month at my new job and I can honestly say that the decision to pursue this is one of the best I ever made. I wasn't sure at first and had a lot of nerves and worried thoughts over applying for jobs, interviewing, and waiting in limbo to know what would come next.
Once I got the official yes about the new position, it was a whirlwind of resigning from my previous job, cleaning out my room, turning in my keys, and telling everyone goodbye. I kept waiting for the tears to come (since I am usually pretty emotional)...but they never did. I took this as a sign that I was on the right path.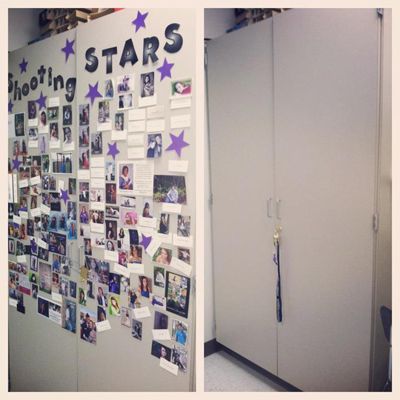 Left - The cabinet from my classroom with a bunch of former students' pictures.
Right - After cleaning up.
Two weeks later, I was at my new position meeting people, signing paperwork, getting new keys to my office (no more classroom), and getting right to work on planning and training. Everything has just fallen into place.
Every day is a new adventure and I can't wait to see what comes next!